Astro ONE
If you are a Sailing Teacher or you have a Sailing School, Astro ONE*, is the ideal starter for your child single-handed fleet but with race stiffness and performance..!
1) Optimization of learning hours:
-Minimum water-boarding when sailing: Beginners will focus on sailing, not bailing,
-Does not remains flooded after capsized: Can keep on sailing "non stop" after righting,
-Widder deck: Comfortable helming position that allows easy hiking with less effort,
-Sessions better used and by more sailors: Due to its bow design, you can lengthen the session with strong wind. The novice students now enjoy more running... ,
-Improved latent security in the training area: Improved fleet control, Lower dispersion, Few time helping to sailor, he is more autonomous to continue, do not get tired,
-The sailor acquires an unusual sureness that empowers his progress,
-Starting age can be lowered,
-Reduced number of dropouts..!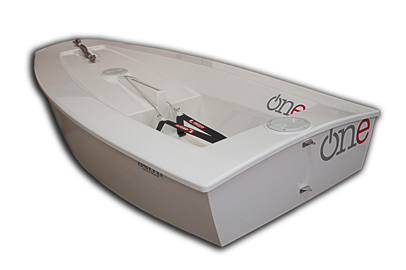 Astro ONE
2) Standard Equipment:
-Same equipment for the entire fleet..! Daggerboard case supports both classic marine plywood school boards or ONE Design ones,
-School spars or race spars. You can use existing equipment, you choose ... ,
-School sail or race sail depending on the level of the sailor... ,
-Sail with reduced sail area optional,
-Simplified systems,
-Ready to sail in 5 minutes..!

3) Durability with Performance:
-Agile and fast sailing,
-Built to last with the ASTRO quality standard,
-Compact design with continuous deck that allows a better distribution of efforts when beaten at the gunwale. Less breakage... ,
-School-Boat for your fleet of "novice single-handed" but with race stiffness and performance..! ,
-Unsinkable (over-sized rigid interior buoyancy area),
-Optional bow protection.

Astro ONE
4) Training for competition:
-If your club or sailing school has sport activity in Optimist Class, Astro ONE is the best tool to provide new sailors for the racing team...

Download Astro ONE Flyer (375 Kb. PDF file) here.
*.- Astro ONE is not a IODA Optimist, is the ONE..!