ASTRO Optimist
The ASTRO Optimist, are the result of many years of experience* in sail competition, and in production* of technical composites, applied to build high-level hulls for the Optimist Class.
ASTRO Optimist. Photo: Alfredo Llobet
We have two options: PN/Mk1(R)*, our thoroughbred for high level racing and PN/Mk1(R2)*, our proposal for medium to high level racing but at an unbeatable quality/price rate.
PN/Mk1(R):
-Hull "Snow White", Gunwale "ASTRO Grey", Midship Frame See palette*, Inner hull face "Ash Grey" and Anti-skid area "Graphite",
-Low friction DELRIN deck collar with tapered, and fore-aft oval inner diameter, for maximum mast rake,
-316SS lightened mast step with rake spring looking system,
-Daggerboard retaining system,
-48 Lts. IODA'95 buoyancy bags with inflation tube and twist look valve,
-Block and Winch HARKEN,
-Kiwi style padded hiking straps, with loops for lifting shockcord,
-Tapered DYNEEMA mainsheet,
-316SS rudder fittings,
-Braided tow line with 316SS safety hook,
-3,5 Lts. bailer secured with shockcord and plastic hook,
-Paddle secured with shockcord and plastic hook.

ASTRO Optimist Mk1(R)
ASTRO Optimist Mk1(R)
Mk1(R) Palette
You can choose the colour of the Midship Frame of your Optimist between the colours of the following range.


| | | | | |
| --- | --- | --- | --- | --- |
| Baby BLUE | Pastel GREEN | Pale SALMON | Astro GREY | Iron GREY |
For these and other colours, please check availability
here
.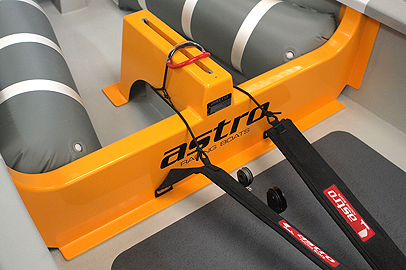 ASTRO Optimist Mk1(R)WT
PN/Mk1(R2):
-Hull, Gunwale and Midship frame in "Snow white", Inner hull face and anti-skid in "Ash Grey" colour scheme,
-DELRIN deck collar,
-316SS Mast step,
-Daggerboard retaining system,
-43 Lts. IODA'95 buoyancy bags with Std. valve,
-Block and Winch HOLTNautos,
-Footstraps,
-Polyester mainsheet,
-Security Kit (Tow line/Bailer/Paddle).

ASTRO Mk1(R2), Winner of the Cataluña G3 2011.
Production
The Optimist hulls, as specified on
IODA*
class rules*
, are built of GRP laminates. We believe that our hulls are better, because of the quality of the materials we use and of our care in the craftsmanship process.
We use ISOPHTHALIC Polyester resin with 105
o
C
HDT*
. This means higher mechanical and elasticity performance, compared with hulls built with ORTOPHTHALIC resin, cheaper but of lower performance.
Hull laminate
The quality of the fibreglass we use in our hulls is M1
(powder binder).
This is the best quality, much higher than the M5 (emulsion binder), and the only internationally approved against osmosis in shipbuilding.
The bottom of the IODA Optimist is a "sandwich" structure. At ASTRO we build it with a vacuum system (with a similar system to the one used in F1 to build frames). This gives a much more strength, compact and lighter laminate than hand lay-up.
Once finished, our hulls are post-cured at a controlled temperature, which gives them their extra rigidity and dimensional stability. Therefore they last longer. This is the process we have used for many years. In fact, the team that builds your Optimist, is the same team that built the winner hulls of the 2003 Worlds (MEDINA/BARREIROS, Hayling Island, UK) and 2005 Europeans (RAHIER/RAHIER, Garda Lake, Italy) of Int. 420 Class.
Finally we come to accurately assembly and alignment of the key points: -Deck Collar-Maststep-Daggerboard-Rudder blade-, so all elements work in a single plane. AB RE only builds the ASTRO hulls in BARCELONA. Therefore our quality is not in the hands of others and not dependant on enforcing a process that can not be controlled remotely.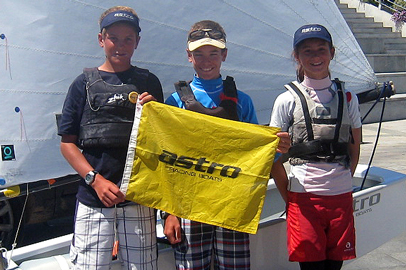 ASTRO Optimist