Watches
We have a wide range of clocks and navigation instruments. Here are two of the available options. The OS315 is the choice for the dinghy sailor. High visibility and ease of use for the key moments in the start. The Suunto M3 is our choice for the cruising sailor.
Optimum Time OS315
"The Big Yellow". Large screen with 16 mm. digits for the best sight in any situation.
OS315
· Large 65 mm. overall ABS case
· 38 x 20 mm. display size
· Massive 16 mm. digit height
· Single row display
· Adjustable Viewing Angle
· Elasticated Strap for wrist or other sleeve wearing
· Water Resistant to 5 ATM
· Normal Timekeeping Mode (12 or 24 Hour)
· User replaceable battery
· Specialist Sailing Timer Functions:
- Countdown repeat option or,
- Countdown and Up to show elapsed time for handicap races,
- 5,4,1,0 ISAF start sequence pre-programmed with audible warning signals,
- Audible warning signals (can be silenced if preferred),
- 5 minute, 3 minute and multiples of 1 minute programmes as well,
- "SYNC" button for instant synchronisation if a gun is missed.
User Manual (531 Kb. PDF file) here.
Suunto M3
Sailing instrument with sailing timer and bearing memory for a perfect start.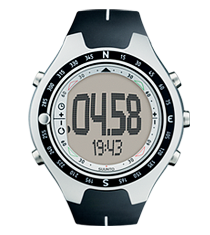 Suunto M3
· Advanced sailing timer with synchronization and smart repeat
· Timer lock to prevent accidental off-sync
· Multiple watch, date and alarm functions
· Aluminium case with black elastomer strap
· User replaceable battery
User Manual (11.014 Kb. PDF file) here.